Mikola Dziadok, a Belarusian political prisoner, journalist, blogger and anarchist movement activist was forcefully detained at his home on November 11, 2020. After that, he was forced to record a video confession and in that video, his face was evidently bruised and beaten.
On November 10, 2021 Dziadok was sentenced to five years of imprisonment by the Minsk City Court. He was found guilty under three articles of the Criminal Code: Art. 342, Art. 361 and Art. 295-3, which are 'Organisation and preparation of actions in gross violation of public order or active participation therein', 'Calls for actions intended to breach national security' and 'Wrongful actions with items which harmful exposure is based on inflammatory agents.'
Aliaksandr Dziadok, Mikola's father, has more than once told the mass media about the pressure inflicted on his son by the prison administration. Mikola was placed in a punitive cell, deprived of the right for correspondence and meetings. Thus, on March 10, 2022, Mikola refused to work at correctional facility No. 9 protesting against being deprived of the right for correspondence and persecution of the inmates in contact with him. The administration punished Dziadok for that by placing him in a ward-type room for four months and the two inmates who stayed in contact with him in punishment isolation cells.
On March 23, 2022, the Ministry of Internal Affairs added Mikola Dedok to the list of persons involved in extremist activities.
On August 23, 2022, Mikola's birthday, administration of the prison in Hrodna extended his term in the punishment isolation cell where he has already spent at least a month and a half.
«He doesn't think the time he spends in prison is wasted»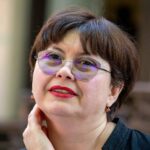 Aksana Kolb
editor-in-chief of Novy Chas newspaper
I met Mikola a long time ago, back when he served his first sentence. (Mikola Dziadok was detained 3 September 2010 in the case of 'attack on the embassy of the Russian Federation' and sentenced to 4.5 years of imprisonment in 2011 which was later extended by one year in 2014 — Ed.) One of our journalists knew him well and we wrote letters to him, subscribed him to Novy Čas. When he was released, a question arose where to apply for work. We see a lot of 'politically sentenced' now and it's not a problem for the employers. But back then it was a problem. Yet we decided to give it a try and employ him as a journalist; he joined our staff in 2016.
He needed support at the time. We are always glad to welcome new people and to have those who are 'our persons' to stay. Those who value our mission and don't just seek work and money have always stayed in our team no matter who and where they'd been before that. Mikola is precisely that kind of a person, he pays attention to what he brings into the world.
And he was good already in 2016; one wouldn't say he was fresh in journalism. Each of his articles was thorough, interesting. Mikola always tries to get to the bottom of what he's writing about. He is a principled man and sometimes we argued and he got offended when I removed something from his texts. Nevertheless, he's worked with us for quite a long time.
He left in 2019 and moved to Poland to study for a master's degree. Yet he remained our part-time author and wrote for us from time to time, helped us establish a Telegram channel. We are still in contact; he considers himself a part of our team and so do we.
Why didn't Mikola stay in Poland after completing his studies? First of all, he switched to remote studying once the pandemic started in 2020 so he returned to Belarus. And then, when 'everything started' in summer, he decided he wouldn't leave. Mikola saw a historic chance for Belarus ahead and he thought it was everyone's duty to stay if they believed in it. He understood though, he might be detained.
Mikola Dziadok is a many-sided man. Anyone who knows him knows that he is thorough in everything he does, whether it's studying, political interests or journalism. I know he studied Arabic, read a lot of literature on political science, showed interest in social sciences. Everyone knows him as one of the leaders of the anarchist movement and it's about the views he is ready to fight for rather than something opportunistic.
As to his journalistic texts, those were very different works. There were ones about everyday life in prison: back after his first term in prison he wrote about this huge problem and how many people have gone through prisons one way or another, how many people are connected with detention facilities.
After he was released from his first sentence, he wrote a book, Colours of the Parallel World. It was translated into many languages. I'm sure he will write something deep and meaningful after this term as well. He doesn't think the time he spends in prison is wasted. Mikola is learning languages, reading a lot, doing sports, he is trying to maintain his physical and mental health.
Letters don't reach him at all. Moreover, the administration is filming how they destroy his correspondence. They are probably trying to achieve something. But Mikola is a man with nerves of steel, they definitely won't succeed. He knew what he would face and he stays strong.
«I didn't expect such a young man to be so calm, cool-headed, confident under quite extreme circumstances»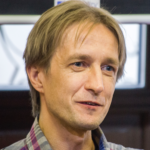 Siarhei Pulsha
assistant editor at Novy Čas newspaper
I met Dziadok at his first trial in 2011 when he was accused of being involved in numerous direct impact anarchist actions, from throwing paint at the Palace of Trade Unions to attacking the embassy of the Russian Federation. Those trials were held within the Plošča 2010 line of cases and being a BelaPAN reporter I attended them daily.
Anyway, Dziadok was eventually sentenced for four and a half years in prison for only one anti-war rally at the General Staff of Belarus.
I was impressed with how confident Mikola seemed in court. He was only 23 and I wouldn't expect such a young man to be so calm, cool-headed, confident under quite extreme circumstances. It was 2011 and political processes were active, yet criminal persecution for the actions Mikola was incriminated against were more likely an exclusion than a rule back then. Moreover, the 'anarchists case' wasn't formally connected with the preceding presidential election and the elements of crime, in my opinion, required administrative sanction. However, Mikola wasn't broken facing a criminal charge.
Mikola met me when he came to work at our editorial office. What struck me was that Mikola in life and Mikola in court were two different people. While I remembered him from the court as a reserved, constraint person, he appeared an emotional and fascinating young man in life. It was nice to have a discussion with him—he is well-read and educated. And he stated his position emotionally, he got excited which made any discussion even better.
Once Mikola got interested in anything, even in the tiniest thing and even for a short time, it was impossible to distract him. I remember we once went to some village for a corporate event and a part of that event was reenactor Yuri Ustinovich who brought sables, axes, bows and arrows. You should have seen how Mikola ran back and forth throwing an axe or aiming with a bow and arrow. The restraint which impressed me when I first saw him vanished. So Mikola is actually quite an open and honest person; he knows how to work and how to entertain.
It was really nice to work with Mikola. First and foremost, because he separated his journalistic work and his political opinion. Of course, our newspaper has this principle that everyone should write about the things they are interested in, so Mikola's articles were mostly related to the anarchist movement or human rights and those two often intertwined. Nevertheless, Mikola performed editorial tasks and evolved into quite a good reporter with time. He prepared reports from the Christian Democracy events, the Francišak Skaryna Belarusian Language Society events and from the meetings of entrepreneurs. Those were good quality reports.
Second, what Mikola could win you over with was his ability to see the extraordinary in ordinary things. He was very much interested in the Chechen resistance, and a number of his articles annoyed the Ministry of Defence which was looking for the 'justification of terrorism' in those articles. For instance, the Russian and Belarusian propaganda depicted Zelimkhan Yandarbiyev as a notorious terrorist along with Shamil Basaev, Ruslan Gelaev and others. And Mikola wrote that Yandarbiev's books were translated into over 40 languages across the globe, that he wrote a poem on Vasil Bukau's death, that he was friends with Ryhor Baradulin and that he was the first Chechen poet whose poems were translated into Belarusian. This might have been exactly the reason why the Ministry of Defence reacted so harshly because the first rule of creating an enemy is to dehumanize them.
By the way, Mikola noted that, 'the activists' social media become valid participants in any administrative case' back in 2018. And now people are being sued for likes.
Correspondence with Mikola is complicated both by forced relocation of the majority of our editorial office and by censorship, they don't pass any letters on. We are sending our letters via the Письмо.бел and other services and Mikola cannot respond because there's no return address. We do receive rare word from him, though, but I won't disclose the way to keep it safe after this article is published.
---
30 верасня 2022 года
Terms and conditions
Partial or full reprint is permitted subject to following terms of use.
An active direct hyperlink to the original publication is required. The link must be placed in the header of the reprinted material, in the lead or the first paragraph.
Reprints, whether in full or in part, must not make changes to the text, titles, or copyrighted photographs.
When reprinting materials from this page, attribution must be given to the Press Club Belarus "Press under Pressure" project, collecting evidence of repression against independent media and journalists in Belarus.