Iryna Leushina, editor-in-chief and director of BelaPAN. Iryna's story is told by her colleagues and her daughter.
On August 18, 2021 searches were conducted at the independent information agency BelaPAN [
It was recognized as an extremist formation under the KGB (the Committee for State Security) decision in November, 2021
] as well as at homes of some of its employees and the former director of BelaPAN. After that, editor-in-chief and director of BelaPAN Iryna Leushina was detained and taken to the detention facility in Okrestina St. in Minsk. After 10 days, Leushina was transferred to SIZO-1 [pre-trial detention center].
The Investigative Committee initially stated that the detainments were on suspicion of crimes committed under Article 342 Part 1 (Organisation and active participation in actions in gross violation of public order) of the Criminal Code of Belarus. However on 27 August, the Investigative Committee communicated opening a criminal case of tax evasion (under Article 243 Part 2 of the Criminal Code of Belarus). Media manager and journalist Andrei Aliaksandrau, detained 12 January 2021, was reported a person of interest in the same case.
On October 6, 2022 at Minsk regional court a sentence was given on «the BelaPAN case», in which Iryna Leushina was involved. Iryna Leushina was accused of creation and administration of an extremist formation. She was condemned to 4 years of general regime colony. The legal proceedings were closed.
On January 20, 2023, the Ministry of Internal Affairs added Leushina to the list of persons involved in extremist activities.
The journalist has been recognized as political prisoner.
«Iryna is iron woman»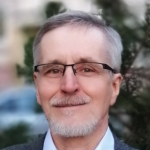 Aliaksandr Klaskouski
head of analytical projects, BelaPAN
I met Iryna as soon as I came to work at BelaPAN at the end of the past millennium. It's been almost three decades that I've worked with the company.
At first, I can say I and Iryna even had a professional conflict because I came to a new team with my own traditions, way of interaction. I needed time to adapt to all the details. I remember we had a big fight once, so our relationship was not a friendly one right away.
But I valued her adherence to principle. On the one hand, there's no arrogance at all about her; many employees address her informally, without ceremonies. Yet it doesn't mean she is patronising. In terms of work Iryna can be rough, demanding, principled or even start a conflict standing her ground.
In the recent months, Iryna took additional burden: she had been the Editor-in-chief for a long time already and then she had to take over the Director function as well when Dzmitry Navazhylau left at his own volition. He also got involved in this whole mess and was arrested. It was certainly difficult for Iryna to be both the Editor-in-chief and Director. And I have absolutely no idea how she did it.
She was in charge of all the editorial work: improved notes, returned for reworking, came up with headlined, etc. As well as all the administrative work. We could feel great tension because it was obvious that the total sweep of the media was underway and it would be BelaPAN's turn sooner or later.
I would not be the first to say, in this relation, that Iryna is iron woman. She told me several times that she had been advised to leave Belarus. But it was her principled position that the captain should be the last to leave the ship. As we see now, it is exactly what happened: she performed her duties for as long as she could.
It is very hard without Iryna, for sure. It is a blow at BelaPAN: both Iryna's arrest and searches at the employees' flats and at the office. Security services confiscated all the electronic equipment: the server we had at our office and the one at Beltelecom hosting our website. Our company has worked legally, had its hosting in Belarus and is now paying for it. Those who remain free are trying to fulfill our obligations to our subscribers.
«We must be strong. We must do what we must»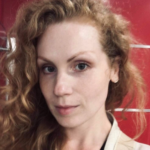 Tatsiana Bublikava
journalist for Naviny.by and BelaPAN
I met Iryna at an educational project for Belarusian journalists in Sweden. I remember I looked at her and thought: 'I wish I could get closer to her'. She irradiated such confidence, professionalism. She could say nothing and just sit opposite to you and you would look at her and just, just— Mother of dragons!
Several years after that there was a staff reduction at Nasha Niva and I was offered to come work with Ales Lipai. So I had a happy chance to work with the team.
The atmosphere, rules, values everything is built on are all Iryna's values, Ales' values, other editors' values. Numerous times I witnessed how Iryna cleared our colleagues' articles of information absurdity. It has always been accurate, without getting down to emotions or becoming personal. It was about the product, about the truth.
When I started to work with Iryna I had no feeling of hierarchy, subordination. It was at the periphery of relations. It was first and foremost about the story, the news, events. It was important to write the truth, to be accurate, timely, fast and not get exposed (laughs).
I remember my task to cover the march of the disabled. It felt like working in two with Iryna: there was a person receiving information I passed on from the site.
Iryna is very good to my children. I can easily come to the office with my little ones and she would, 'Oh hello, Agatha! Wilhelm! How are you doing? Oh, how your hair has grown!'
Iryna loves honesty, openness, straightforwardness. She is the kind of person who values and enjoys closeness, people's warm-heartedness.
And at the same time she is the 'Mother of dragons': very principled, straightforward, uncompromising in her values and intentions. 'I will not leave', she said, 'I'm not going to leave. I know they might arrest me and I'm ready to spend my time in prison but I will not leave.'
This adherence to principle, I fell in love with it. I had suspected that Iryna is a person you turn to. It is personal magnetism, an honest open heart which only protection is the truth.
Corrupt people, deformed by lies… I think Iryna never built human relations with them. And so she managed to preserve her purity. She used to say: 'We must be strong. We must do what we must.'
Iryna started to change when Ales died. In recent months, I have noticed wrinkles between her eyebrows. It was an indirect expression of her attitude to the situation. She would never publicly raise her voice at or criticise anyone, but the tension she has been feeling in the past year started to show on her face.
She didn't plan to become the Director of BelaPAN, she was the editor. This Director function just fell on her. She said, 'I didn't want it, I didn't expect it. But it happened, so I will do it.' And she did and things started moving. Things staying idle for decades were finally completed. Girl power! It started to show and I was so happy Iryna was the head of BelaPAN. Our life at the office became even more lively.
In relations with people Iryna is very mild, open. You can see her internal shine when she is with children or animals. It was very hard for her when her labrador Brooklyn died. He got ill and when he could not walk any more Iryna carried him to do his duty rather than be messy.
I would be really happy if people like Iryna—we need more people like her—were role models for the development of society. Once people like that are at decision-making points a lot of bad things would be avoided: corruption, lies, plotting, double standards.
The BelaPAN team are my fellow thinkers, we are on the same page. Our editorial office continues working. There's no talking about closing and leaving. Our only intention is to keep our work, the work started by Ales Lipai, Aliaksandr Klaskouski and Iryna Leushina. People need us. It is about reputation and certain standards of work.
Ira, I admire you. I don't want to transmit any pain or fear. These things stop our mind from making decisions and acting. I want to pass on the words of love and admiration.
«Ira is the soul of BelaPAN, the centre of everything»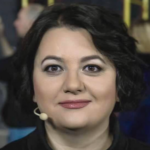 Tatsiana Karavenkava
journalist for BelaPAN
We met when I came to work at BelaPAN in the fall of 2006. And I was probably very lucky to be given a desk right near Iryna's one. Her desk was at the wall and mine on her right. She had to teach me, make me fit the agency's standards, explain the specifics.
Ira is the soul of the agency, the centre of everything. She led the work of the agency, journalists' work. She is a top-class professional.
I don't think there are a lot of managers like her in Belarus. As an example I can name Marina Zolotova (editor-in-chief of T*T.BY currently recognized as an extremist media, a political prisoner — Ed.). These are equally significant figures despite the differing specifics of their work. Marina Zolotova developed a nation-wide portal targeted at a mass audience while Iryna Leushina led an information agency with paid subscription with its target audience being other media, diplomatic missions, Belarusian and international organisations.
The first and the most important, Iryna always roots for her journalists. She has always protected them, was prepared to fight, argue. She tried to guard them. In case of any conflicts with any ministries Leushina aimed to resolve them herself.
She has always kept an eye on the agency adhering to the standards of journalism: be objective, listen to all sides of a conflict, be precise, verify information, avoid mistakes, disinformation. Strict compliance with the standards of journalism as required for a normal mass medium.
BelaPAN has become something more for me in these years, a mini-family. We didn't often meet outside work, but the relationships inside the team were very good. And this atmosphere was like that largely thanks to Iryna.
It is certainly hard without Iryna. It is also hard because of how she was taken from us. We managed to redistribute her duties among other members of the team. We also have to be in charge of the administrative and technical issues and to build the strategy of our work on.
Ira, we're beaten up but not broken.
«Mama is the person I've always looked up to»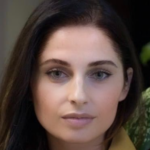 Anna Leushina
Iryna Leushina's daughter, fashion designer
Mama is crazy professional. Her work is her life. I think she is a perfectionist in her work. She always tries to accomplish the tasks she sets. She is a good manager capable of finding an approach, being friends, organising her colleagues.
And she's the best mother in the world. Even though she is always working we are friends. She's the person I have always looked up to. I always wanted to be like her.
We spent a lot of time together. We like walking, finding new cafes, places, we love to chat. She has always supported me in any of my undertakings including when I started designing clothes, she helped me as she could. She was proud of me.
We have always had cats and dogs. Our labrador Brooklyn has been a great support for my mama recently, a super friend. She used to take him on two-hour walks. I can't imagine mama without animals around her. Even though she is now saying some time has to pass after Brooklyn died, I think as soon as she is free and everything comes back to normal someone new will appear.
Mama is goal-oriented. Stubborn, in a good sense. She achieves what she wants. She's very kind, very clever in many respects. For those who know her better, she is very artistic, lively.
When she was for the first time detained in the BelTA case (in 2018, a number of journalists were detained accused of unauthorised access to the materials of the state-owned information agency BelTA — Ed.) it was a complete surprise. This time, she was prepared.
She knew BelaPAN was the only largest independent mass medium still existing on the territory of Belarus. So she had prepared instructions, for me as well. When I realised I couldn't reach her since morning there was no shock or stress. I knew I had to follow her instructions.
I'm doing everything myself for now. I took the first package to the pre-trial detention centre (in Akrestsina, in Minsk — Ed.) and it was accepted. I was so happy. Then her lawyer saw her and it turned out that of the whole package—there was 5 kg of food, hygienic items, warm clothes in it—she only received a half-empty bottle of water, toilet paper and napkins. This was a shock for me because people accepting the package at the detention centre were very nice to me and assured me they will pass everything. And then you find out that they even spill half a bottle of water. So odd.
And as I got from what the lawyer said, mama was very upset about it because she was counting on receiving at least minimum hygienic items. Then she passed on that they feed them relatively well and the food is enough.
Mama remains energetic and funny even there. I can't imagine the situation where mama would fall apart and let know she's not fine. The lawyer consistently tells me everything is fine, she's in a good mood and keeps upbeat.
The most important support for mama is in letters. She used to write to the political prisoners a lot even though many letters never reached their destination.
---
3 верасня 2021 года
Terms and conditions
Partial or full reprint is permitted subject to following terms of use.
An active direct hyperlink to the original publication is required. The link must be placed in the header of the reprinted material, in the lead or the first paragraph.
Reprints, whether in full or in part, must not make changes to the text, titles, or copyrighted photographs.
When reprinting materials from this page, attribution must be given to the Press Club Belarus "Press under Pressure" project, collecting evidence of repression against independent media and journalists in Belarus.