Nasha Niva has been under pressure since August 2020. Yet on July 8, 2021 the publication's life changed dramatically: large-scale searches were conducted, the old website was shut down, the team was forced to flee Belarus and the editor-in-chief Yahor Martsinovich and the head of the department of advertising and marketing Andrei Skurko were imprisoned.
Anastasia Rovdo, Director of Nasha Niva, and relatives of the detained speak about how the journalists and the publication are doing now.
July 2021, timeline

July 8, searches and detainments
Security officers came to the editorial office of Nasha Niva, as well as to a number of employees. Four people were detained that day: Editor-in-chief Yahor Martsinovich, Head of the Department of Advertising and Marketing Andrei Skurko, editor-in-chief of Nasha Historyja journal Andrei Dynko and Chief Accountant Olga Rakovich.
Yahor Martsinovich suffered a beating while being detained; an ambulance was called for him to the Investigative Committee. Andrei Skurko has diabetes, he got to the medical ward while at the pre-trial detention facility due to lung condition (as clarified later, it was pneumonia probably caused by COVID-19).
The searches and interrogations were first conducted under article 342 of the Criminal Code (Organisation or preparation of actions in gross violation of public order or participation in such) and article 293 of the Criminal Code (Mass riots).
The nn.by website became unavailable the same day. Later, the authorities stated the reason: «By notification from the General Prosecutor's Office, due to publication of information prohibited for dissemination by item 1 of Article 38 of the Law of the Republic of Belarus 'On mass media' the Ministry of Information has adopted a decision to restrict access to nn.by Internet resource.»
July 13
The editorial office announced the relocation. «Being a journalist of an independent media outlet inside the country is suicude,» said Anastasia Rovdo, Director of the publication, at the press conference.
July 16
On that day, the publication's accountant Olga Rakovich was released from the detention centre in Akrestsina. Olga's relatives informed Nasha Niva about that.
July 21
Martsinovich and Skurko were detained on remand by the decision of the Investigative Committee. Editor-in-chief of Nasha Historyja Andrei Dynko was released with an undertaking to appear.
July 28
Martsinovich and Skurko were charged. Under a completely different article, though: part 2 of Article 216 of the Criminal Code (Property damage without evidence of stealing, committed by a group of people).
The claims appeared because the utility services for the premises occupied by the editorial office were paid for according to tariffs for individuals, not legal entities. According to the investigators' information, Minenergo (short for the Ministry of Energy of the Republic of Belarus – translator's note) suffered damages of 3.5 thousands Belarusian Roubles. The institution itself never contacted the editorial office directly.
Editor-in-chief of Nasha Niva and the head of the department of advertising and marketing have been recognized as political prisoners.
July 29
Nasha Niva's new website was launched, nashaniva.com.
«For all these days, we have been working on our new website. As our editor-in-chief said in his letters from prison, the national brand has to work because Nasha Niva is not Martsinovich or Skurko kept at the detention centre, it is hundreds of its readers. Let's show we are many,» the editorial office stated.
«Whatever happens, Nasha Niva will live»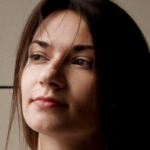 Anastasiya Rovdo
Director of Nasha Niva
About new challenges
Our new website was launched, nashaniva.com. But in Belarus it can only be accessed via a VPN. It is a challenge all the Belarusian media are facing: how to work and reach your readers when your voice is being silenced.
We need to think about new formats, content diversification, about the things we've never developed and done before. So, we plan to expand and grow in new directions, to learn new things. What we had before, is gone.
We have a number of options. Technological solutions – we are in consultation with our programmers on what we can do. Or we go back to content diversification, then we'll need to look for new grounds to place our content.
I hope we'll manage to build our editorial work in a new format within a year. I'd like to believe that the situation with the freedom of speech in Belarus will improve and we will be able to go back to the free Internet – when our readers can access us and there are no obstacles on the way. But we have to prepare for the worst.
What we're asking from our readers now is to become our voices, to send us information. Each person, each Belarusian must become the voice of mass media and transmit what we, sadly, cannot see and hear ourselves.
About relocation
Our position was to stay in the country for as long as possible. The majority of our team is free, but our leaders, Yahor Martsinovich and Andrei Skurko, have been detained. We must carry on our work because it is their lifetime project. They have to have something to come back to. So whatever happens, Nasha Niva will live.
I can't say this situation was utterly unexpected. We understood what country we live in, we've heard the statements from the authorities and we understood they might entail real actions. We have prepared, but the actual events can't be predicted: one cannot know where the blow will come from. Yet the back-up plans we had prepared helped us regroup and now we continue working more or less as usual.
Our journalists are not working in Belarus now. The team creating content for Nasha Niva is abroad.
We have to admit that it is becoming impossible for the independent media to work inside the country. We had to face a choice: leave the profession and be silenced or keep our work outside Belarus. We chose the second. Being abroad, we can do something while the risks inside Belarus are now too high.
And the issue of author's safety is now as urgent as never before. It used to be an honour for the authors to sign each text with their names, but now they are forced to hide, unfortunately. It's faceless journalism. It's unhealthy, it shouldn't be like this; the authors should be proud of what they do. But it's not safe.
Due to COVID-19 we've learned to work online, to communicate with people without meeting in person. Our team is scattered around the world. But I want to believe we will reunite. Team spirit means a lot and it is very important for us to meet, to hear each other, to have intellectual buzzing.
People are still stressed now, adapting to new circumstances. Journalists are unstable psychologically due to a huge amount of changes. Additionally, our correspondents have worked in harsh and unsafe conditions for a year. It is absolutely not normal to get ready to be detained every day. It shouldn't be like this.
Who substitutes Yahor Martsinovich now? There is no other Yahor Martsinovich who could completely replace him. He was and he still is our editor-in-chief. We split his duties between us and restructured our work. And we are waiting for Yahor to return.
About hostages
Four of our colleagues were detained on July 8. After 8 days, accountant Olga Rakovich was released, Andrei Dynko after 13. They are free now, they have not been charged, but their status hasn't changed, they are still suspects.
Andrei Skurko and Yahor Martsinovich are at the pre-trial detention centre in Valadarskaha St. in Minsk. They were sentenced to two months of prison each. We call them hostages, for there is no other proper definition.
We are very much concerned about Andrei's health. He was diagnosed with pneumonia probably caused by COVID-19, and he has diabetes which poses a great risk. We hope Andrei will be provided guaranteed medical care and the doctors on site will not bring the situation to the boiling point and reference him to their more qualified colleagues, if necessary.
People keep asking how to support our colleagues. A good option is money transfers. With this money, they will be able to buy food, essentials.
But the most important and needed option is letters. We ask people to, please, write letters to Andrei and Egor so that they wouldn't stay alone. It is hard to get past the censor, but it is possible: you need to keep writing. Even if one out of ten letters will reach its destination. But it will be a miracle and joy, will be read multiple times and will be kept as a reminder of these events.
«Yahor is an optimist, he believes everything will be well, it will end soon»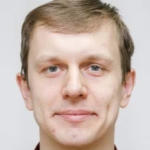 Denis Martsinovich
journalist, Yahor Martsinovich's brother
Yahor's detainment was a shock for us. Just as the way he was detained: we know he was beaten. Anyone sympathetic would be shocked in this situation, even more if it involves your nearest.
But the situation itself… Yahor understood – we were in contact daily – that this might happen sooner or later.
Our family supports him. We are like-minded. We were, we are and we will be proud of Yahor. He is not just a brother to me, he is my best friend. We meet very often, we talk about life, mass media, football. It used to be like that before he got arrested; it's impossible now, unfortunately. There is no member of our family who would not support Yahor.
The letters we received from Yahor are very upbeat, he's holding on with fortitude. My brother is an optimist, he's always been; he believes everything will be well, everything will end well and he will be freed. He is certain of his innocence.
The best way to help now is to send letters. Telegrams. Packages. Any kind of support to make him see he is not alone, he is thought about, he is remembered and people care.
Yahor loves sport which is probably the best way to start a letter. But I think one can write about anything at all. As we hear from «inside», there's a lack of any information: daily routine, household, funny stories, global news – anything to avoid information vacuum. Even if it's just a postcard with a few words, it's ok, it matters.
«Andrei's key quality is his irony, his humour»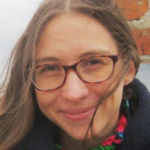 Paulina Skurko
Andrei Skurko's wife
Andrei loves history, he reads and writes about it a lot. And his work, especially in recent years, has been closely connected with history. He turned out to be the main biographer at Nasha Historyja journal. He is particularly good at historic portraits. Andrei reads a lot about a person and can grasp their essence. In his articles, a person is disclosed through their time; and the way it is written makes it interesting to read for contemporary people.
Andrei's key quality for me is his irony, his humour. It was the first quality I noticed about him and was charmed by. I wrote about it in my letter to him in prison: «A man who has a quote from 'The Good Soldier Svejk' for any occasion will be alright.»
It often occurs to me how points of reference have changed. We all knew they sleep without mattresses or bed linen or pillows in Akrestsina. And how happy I was when Yahor Martsinovich passed via his lawyer that the floor and bunk beds were wooden. I thought, «It's almost like at home, Andrei will manage».
The second good news was that my husband was transferred from Akrestsina to Valadarskaha St. where he met his lawyer. Andrei was already ill at that time. As we found out later from the doctors, he had pneumonia possibly due to COVID-19. These days, we are happy a person ends up at the detention facility in Valadarskaha St., not the hell pit of Akrestsina. There are walks, a shower at Valadarskaha, completely different food – more suitable, my husband has diabetes.
Another moment of great joy was when I received his first letters. I was worried about Andrei's spirits very much. I read the letters and I tread on air. He is very positive, upbeat; he wrote very touching love letters to me, with jokes. His letter to his parents was rather sublime: suffering for the truth is God's blessing, it is good to be imprisoned when you're innocent and had done nothing wrong. These statements from his letters are supporting me.
The hardest thing for me now is to see our son growing up, to see features of Andrei in him and understand that Andrei is missing that.Tomash is 18 months now: there are new movements, gestures, words, face expressions every day. It's so disappointing, I can't forgive them for taking that away from Andrei.
So I realised I have to become his eyes and describe every tiny detail to him. It hurts telling Tomash the truth about where his father is, so I say: «Dad is in the castle in Valadarka [slang name of the detention facility in Valadarskaha St. – translator's note]. We are waiting for him to come back soon.»
Andrei asks to take care of ourselves in every letter. It is an important conclusion I've reached myself: evil forces are doing everything they can to break us, to ruin our nerves and health. But we must understand that we will get through this, while our health is not easy to restore. We must take care of ourselves. No one behind bars will feel better because of our sacrifice.
The court hearings of the case against Yahor Martsinovich and his collegue Andrei Skurko started on February 28, 2022. They are being judged for utilities payments made by tariffs for individuals, not for legal entities. Martsinovich and Skurko repaid the alleged damages to the utilities services in full.
On March 15, 2022 Andrei Skurko and Yahor Martsinovich were sentenced to 2.5 years in prison.
Letters from behind bars

Yahor Martsinovich, July 19, 2021
«We tried to withstand a tsunami, but we failed. Sadly, the space for the independent media to work has shrunk to the size of a cell in Akrestsina or Valadarka.
I have no regrets – and I think my arrested colleagues have none either – that we stayed in Belarus and worked in Belarus as long as we could. The national brand's work should continue with us or without us, because Nasha Niva is not Martinovich, Skurko, Dynko and Rakovich, it is a team of professional journalists and hundreds of thousands of readers.
How can you help us? Subscribe to our social media, to our Telegram channel! Read in Belarusian, repost in Belarusian, speak Belarusian! And when we are not hundreds of thousands, but millions, we will all be freed much sooner. Love Belarus!»
Yahor Martsinovich, July 22, 2021, a letter to his mother
«Hello from castle No. 1! I never thought I would be here on a tour, but it has to be done 🙂 Today, I was outside for the first time in two weeks – it was awesome, even though just in the yard.
I have no idea what kind of solidarity campaign you are running, but an occasional neighbour recognized me and shouted: 'I know you! You're on every website! And your girlfriend is beautiful!' So my recognizability index is climbing 🙂
It is probably harder to look at it all from outside than to be here, inside. Nothing terrible is happening, I will come out eventually. I am a bit sad sometimes, but once you realise you're not alone, you have a great support, it's much better.»
Quotes from Andrei Skurko's letters to his wife and parents
«I'm meeting wonderful, bright, interesting people here. It is a fascinating experience.
I can hear women singing folk songs and something from 'The Three Musketeers' in their cells and during walks. The city hall and the Red cathedral can be heard in the mornings and evenings and in the night, some owl living in the ruins is whooing.»
«I'm reading the Pressbol newspaper here for the first time in my life. It's like in that DMB movie: 'In the medical ward, the demobee made friends with us because there was no one else to be friends with.'»
«What can happen to a person in prison? It is the safest place on the planet. There is no chance to even 'fall in battle for the Emperor and the whole most august family'» (quoting The Good Soldier Svejk).
«Don't worry, nobody stays here, everyone gets released».
---
12 жніўня 2021 года
Terms and conditions
Partial or full reprint is permitted subject to following terms of use.
An active direct hyperlink to the original publication is required. The link must be placed in the header of the reprinted material, in the lead or the first paragraph.
Reprints, whether in full or in part, must not make changes to the text, titles, or copyrighted photographs.
When reprinting materials from this page, attribution must be given to the Press Club Belarus "Press under Pressure" project, collecting evidence of repression against independent media and journalists in Belarus.